Söta Jamie
Jo, jag fick en förfrågan att jag skulle skriva mer om Jamie. Och eftersom jag såg avsnittet då han går på besök i den där skolan som var för "extra intelligenta barn" igår så tänkte jag att jag skriver lite om honom :D Jag älskar Jamie! Han är så söt, rolig, snäll och klok. Det är så tydligt att han har både Nathan och Haleys gener (Nathans busighet och sportintresse och Haleys intelligens och omtänksamhet). :D 
Alla karaktärer älskar honom och det är förståeligt tycker jag! :D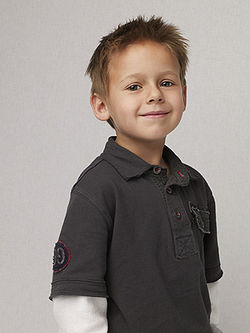 Här är några av mina favoritcitat från Jamie:
Jamie: If you were a girl would that be okay?
Quinn: Yeah it'd be awesome, and technically I am a girl.
Jamie: If that's your story.


Julian: Why would your rabbit have an emotional response to our wedding?
Jamie: Well, he's always had a thing for Brooke.

Jamie: Some people look a little different. Some people are a little different. I think that's cool.

Jamie (to Julian): I'm glad they sent you to pick me up. You don't just treat me like a kid.

Jamie: Is it because she was kissing Uncle Skills?
Nathan: You knew about that?
Jamie: Yeah, they tried to pretend he was getting something out of her eye but they were just being mushy.
Nathan: And how does it feel to be scarred for life?
Jamie: Fine. I like Nanny Deb and I like Uncle Skills so what if they like each other?
Nathan: It's a little more complicated than that. Nanny Deb is also my mom.
Jamie:Yeah, but I let you kiss my mom.
Nathan: Eat your soup.
---
Kommentarer
Trackback